1. The importance of choosing the right purchase of clean room
Buying cleanroom doors is a technical task that tests the knowledge and experience of the buyer. Buyers need to compare data from multiple perspectives when measuring their value. Of course, this alone is not enough to choose a high-quality cleanroom door, please refer to some of the knowledge that SHiZU has accumulated, maybe SHiZU can help you.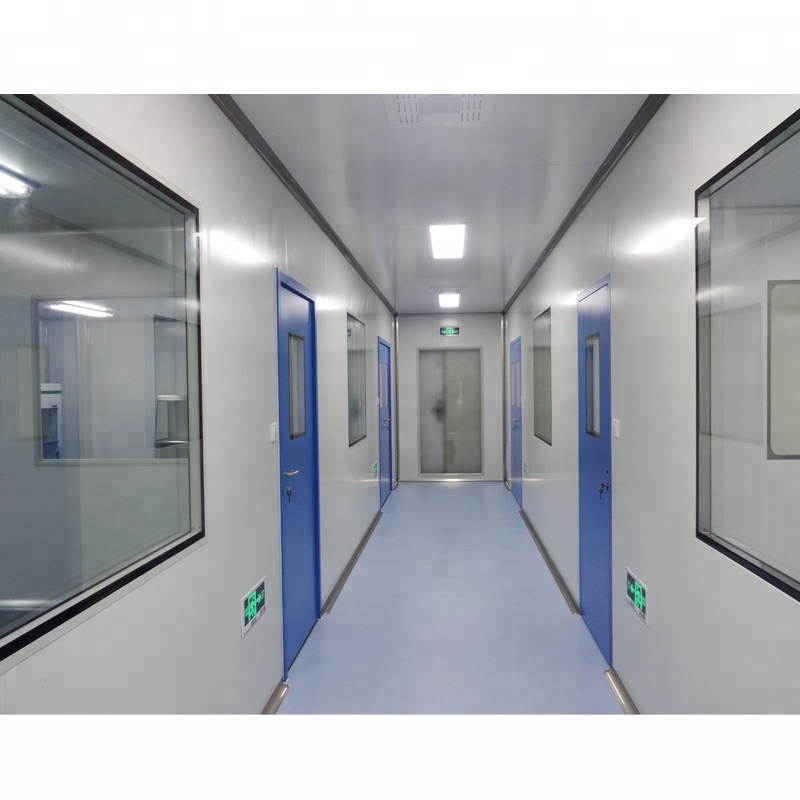 In the past, materials such as wood, laminate, steel and fiberglass were commonly used in the pharmaceutical industry. Although some pharmaceutical factories still have the habit of using doors of ordinary houses, later EU GMP regulations banned the use of wooden doors in many areas and gradually, modern clean rooms are completely replaced by these types of wooden doors because of the unsafe microbiological factors that wood materials bring.
To this day, cleanroom doors have become a major choice in the pharmaceutical industry. In all aspects, the outstanding characteristics of clean room doors are much better than other types of doors. Particularly with SHiZU, clean room construction customers only use clean room doors, never use civil doors of ordinary houses.
In fact, ordinary residential doors perform poorly in terms of resistance to VHP (Vaporized hydrogen peroxide) and disinfectants in pharmaceuticals, and many large pharmaceutical companies have begun to replace existing residential doors with cleanroom door before the end of a door's life.
In SHiZU's cleanroom door manufacturing process, all cleanroom doors meet GMP requirements, and due to their smooth, seamless construction, all cleanroom doors are easy to clean and carry no bacteria. bacteria. Cleanroom doors do not warp, rust, or rot after prolonged exposure to disinfectants, chlorine-releasing agents and VHP.
In Vietnam, one of the biggest challenges in designing cleanroom doors for pharmaceutical cleanrooms is creating high performance doors that are strong, lightweight and easy to clean. These factors must be considered when designing cleanroom doors for all areas, but in cleanrooms, one of the most important factors considered is the weight of the door. The core material is the most important factor determining the overall performance of the clean door. At our SHiZU, the main materials used to make clean room doors are paper honeycombs and aluminum honeycombs. The core material has the advantages of lightness and great bending resistance. Common specifications of aluminum honeycomb: 0.045mm aluminum foil, 20mm aperture, 12mm side length.
2. Pros & cons of clean room doors
The biggest disadvantage of the clean room door during use, which makes pharmaceutical customers often complain about the quality, is that the door is easy to sag. In order to solve the problem of sagging of the cleanroom door after a long time of opening and closing, SHiZU has come up with a number of solutions to overcome this and help customers improve many problems, in which the door life is extended. much longer. That is, we use fixing parts when manufacturing the door, and the lock body fixture changes the traditional point connection into surface contact, making the cleanroom door more uniform and stronger.
The second major issue in GMP regulation in pharmaceutical cleanrooms is tightness, and cleanroom doors are no exception. The highest degree of tightness can be maintained to maintain cleanliness, minimizing the possibility of cross-contamination or air spills. Especially in the clean room environment produce high quality drugs and generate more value and profit. In the production process of SHiZU's room doors, in addition to ensuring the normal tightness, there is an additional layer of reinforcement to ensure maximum tightness for the cleanroom door.
After each batch of production, we test with Quatest 3 or other reputable testing centers on the criteria of negative and positive wind pressure reaching level 6, more suitable for some clean environments with requirements. more stringent.
Talking about clean room doors, there is always a common problem in the market, that is, clean room doors are easy to damage during work, because they are used to open and close frequently and need periodic maintenance. to ensure that it does not affect production activities in the clean room.
In addition, if the cleanroom door is damaged by impact, which is caused by opening and closing too hard, or encountering an obstacle, it can easily sag. Cleanroom door repair work is forced to be carried out on days off or not working and is often very expensive.
With 6 years of experience in manufacturing & supplying clean room equipment, clean room doors manufactured by SHiZU are guaranteed the best performance, at least 1 year warranty on all doors, full maintenance service. life.
With the strength of customer service & customer care, SHiZU hopes that customers can choose our clean room door products for GMP pharmaceutical factories, helping customers have a good experience. best.
3. Where to buy clean room doors?
Customers who need to order or need advice on clean room doors, please contact:
SHiZU Manufacturing-Trading-Service CO., LTD
Address: 114 Bui Cong Trung, Hamlet 3, Nhi Binh, Hoc Mon, Ho Chi Minh City.
Branch 1: No. 102 Lane 649, Linh Nam, Thanh Tri Ward, Hoang Mai District, Hanoi City.
Branch 2: National Highway 1A, Thuong Xa, Hai Thuong Commune, Hai Lang District, Quang Tri Province.
Hotline:
- Sales specialist 1: Ms. Truc 0946.093.082
- Sales specialist 2: Ms. Lan 0942.093.082
- Sales specialist 3: Mr. Han 0914.610,082
- Sales specialist 4: Ms Huyen 0914,514,082
- Sales specialist 5: Ms Nhi 0844.62.1234
Share: