With the escalating trade war, Chinese companies are stepping up investment in Southeast Asia to avoid US taxes. According to the Nikkei Asian Review, this helps create momentum for Southeast Asian nations.
In the period from the beginning of the year to May 20, the amount of foreign direct investment (FDI) that Chinese enterprises poured into Vietnam (based on approved projects) has increased by 5.6. times compared to the same period last year, to 1.56 billion USD. In particular, the figure of the first 4 months has exceeded the total level of 2018.
If this momentum continues to be maintained, China may for the first time become a leader in FDI inflows into Vietnam by year-round figures. Followed by South Korea (about 1 billion USD). Meanwhile, the total capital of the projects is led by Japanese investors, the country in 2017 and 2018, currently only reached 730 million USD.
Thailand also witnessed strong capital inflows from China. In the first quarter of this year, total FDI from China approved by the Government has doubled, to 29.3 billion baht, equivalent to 933 million USD.
Taxed by the US, many Chinese companies were forced to search for other locations to reposition production. Since last year more than 20 Chinese listed companies have moved factories, expanded production overseas or at least announced plans to do so.
The Asian Development Bank ADB's April report stated that China "has increased investment in Asia in recent years, but in the context of trade conflicts that trend has been strengthened".
Vietnam has the advantage of cheap labor and favorable geographical position. The new report published by Nomura last week also stated that Vietnam is the biggest beneficiary of trade war with GDP 2019 could increase by 7.9%.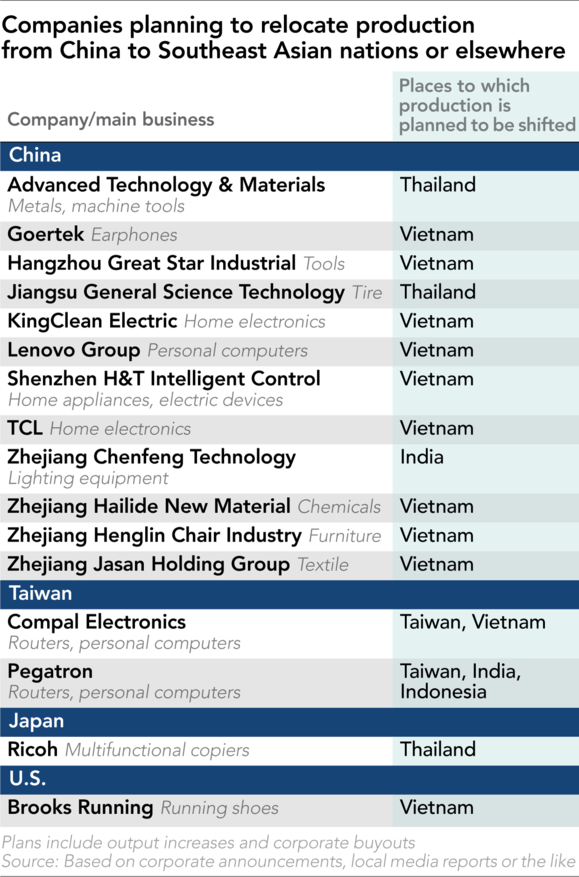 Chinese investment also skyrocketed in the Philippines, but it was also largely due to the warm relationship between President Rodrigo Duterte and President Xi Jinping. The two sides signed a 29-project cooperation agreement during Xi's visit in November 2018.
China surpassed Japan to become the largest FDI investor in the Philippines last year. Total approved FDI has increased more than 20 times to 979 million USD.
Chinese companies are quite worried about trade wars. It seems that they are prepared to be able to move as soon as it is necessary to do so. Shenzhen H&T Intelligent Control, an electronics company based in Guangdong, decided to spend $ 5 million to set up a factory in Vietnam.
GoerTek, Apple's AirPods headset assembly company, was licensed in January to build a $ 260 million factory in Bac Ninh. TCL TV production company and Lenovo computer group have similar plans.
A representative of a Chinese company said that if the tax is 10% then companies can tolerate it by raising product prices by 3-5%, but 25% is a huge number.
Share: